Clifton, Virginia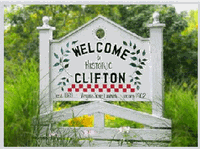 Clifton, Virginia: One of the final frontiers left in Northern Virginia. It is a small town that has not developed much since its inception in the late 1800's. There are no traffic lights or direct postal service but rather a couple restaurants and pubs, a few shops, an ice cream stand, and a hundred year old general store. Horses can often be seen riding through town. Its façade is composed of houses that are almost all over one hundred and twenty years old. White picket fences line main street, rustic lanterns and barrels full of flowers adorn the streets. And yet, within this quiet community, lies a history that rests deep within this nation's beginnings.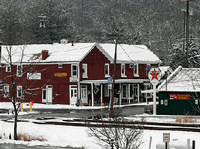 Originally known as Devereux Station, Clifton was borne as a direct result of the Civil war. In 1861, the Union army incorporated the Orange and Alexandria Railroad Company into their military system. Serving as the southern-most point of the Union army, Clifton housed soldiers placed to guard against a Confederate invasion. Often times troops marched through town, fighting small battles and preparing to set up camp along the creek. After the war was over, Harrison G. Otis (commonly credited as being the founder of the town) helped to modernize the railroad, and in doing so, he purchased Devereux Station.
After failed attempts at cultivating grapes in his vineyard, Otis opened a hotel in the building that now serves as Trummer's on Main restaurant. The town quickly became a retreat for the wealthy of Washington. Although its previous reputation preceded it as great hunting grounds (George Washington and Lord Fairfax used to ride here on their hunts), its new fame was the saloons, hot springs, and peaceful small-town pace. Clifton became the first community in Fairfax to have power in 1925 with the coming of the Bull Run power company. The first high school in the county was also opened here, with students shuttled in by train. The Buckley store, built in 1900, was another major factor in the town's growth. Claiming to have "everything from a pin to a plow" the store was later closed and converted into the Heart and Hand restaurant.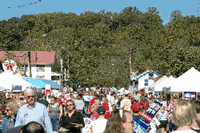 A few of Clifton's most notable guests include actress Helen Hayes who frequently summered here, Jeff Arch who wrote his famous screenplay for Sleepless in Seattle in a house on Main Street, and past presidents who came to dine at the fine eating establishments. Events throughout the year such as Clifton Day, the Candlelight Homes Tour, and the Clifton Wine Festival allow tourists to come enjoy the town.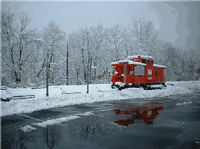 Today, the southern railway caboose sits in town as a beautiful bright red landmark designating the spot of the original Devereux station. Aptly nicknamed the "Brigadoon of Virginia", Clifton was declared a National Historic District by the U.S. Department of Interior in 1985. In a world of continuous development, its charm remains intact and is worthy of a visit by all.